Going live
Public and private projects
When you first create a project, you will be taken to the Project Dashboard. The Project Dashboard serves as the main overview for an individual project. This section displays the latest activity by all project members, includes links to preview the site, edit project details, set the project as private or public, as well as lists all individuals with access to the project.
Private
The Private ribbon indicates that the project is still under development. Only the account admin can view the project by default. The account admin can invite additional team members, collaborators or clients from within the specific project. All other visitors to the URL will see a Coming Soon system page. The Coming Soon system page as well as other system pages, such as the 404 page, can be modified from with in the Design section of the admin.
Note: When a project is first created, by default the site is set to private.
Public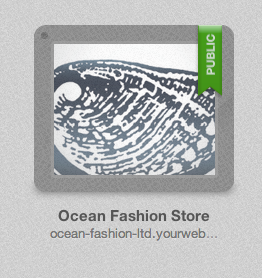 The Public ribbon indicates that the project is live. Any visitor to the project URL will be able to view all pages within that project.
Continue to Duplicating »